This site provides a catalogue of all known UK airfields, past and present. The data is available on the following pages or as KML or MMO files for use with Google Earth or Memory Map. A new section on Irish airports in now being started as a previous definitive site of these has sadly disappeared.
To date the catalogue lists over 1800 airfields but I have no doubt the data remains incomplete. The research for this catalogue has been extensive (some 20 years) and I hope the data is accurate - it is not collated from other aviation web sites (although I note the reverse is not true).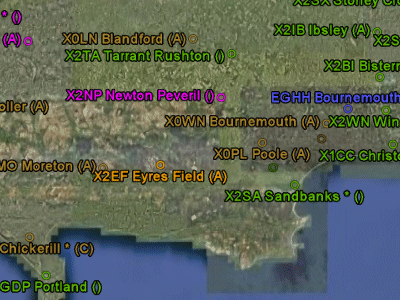 Coverage
The list covers all known airfields used for powered aircraft operations and for gliding. It does not encompass sites created specifically for other aerial sports such as hang gliding, parachuting or microlight activity as many are of very transient nature.
History and Preservation
No in depth history of an individual airfield is included (or indeed a consideration) in this project. I will leave this research to individual historians who can do full justice to such work and give airfields the recognition they fully merit.
For serious research and for anyone who cares about airfield preservation I would like to direct users to Keith Jillings' Action for Airfields site. UK airfields are disappearing at a significant rate - as the images on my pages will show.
Planning Policy Statement 3 (PPS 3) has been developed to progress the Government's agenda to provide a national policy framework for housing. It says that previously developed 'Brownfield' land sites should be considered for housing development. The existing PPG 3 section defines 'Previously Developed' land with two example exclusions, hospital grounds and airfields. From Feb 2006 airfields have been removed from the exclusion list - a move that could see many disused airfields disappear (and possibly active airfields as well).
---
Data Presentation
Airfield records format :
| | | | | | | | | | |
| --- | --- | --- | --- | --- | --- | --- | --- | --- | --- |
| Cat | Airfield Designator | Name | Alternative Name | Latitude | Longitude | Year Opened | Status in 1944 | Current Use | Remarks |
| A | EGLF | Farnborough | --- | N 51 16 33 | W 00 46 35 | 1904 | RAF 24 Grp. Photo School | Airfield | Active |
| B | X2GP | Gosport | Fort Grange | N 50 48 20 | W 01 10 32 | 1914 | RAF 16 Grp. Coastal Dev Unit. | Housing | Airfield is now extinct but some hangars remain. (10/2006) |
| C | X0MN | Marden | -- | N 51 10 | E 00 32 | -- | -- | n/k | Still listed in 1932 |
| A | X3SQ | Sittles Farm | Lichfield | N 52 42 21 | W 01 44 32 | -- | -- | PS | -- |
Airfield Colour Codes
Each airfield record is colour coded to indicate its status. Gliding sites and Private Strips are only shown in their specific colour if they are not sited on an existing active airfield.
Active

Inactive

Blue

Airfields and Heliports

Green

Airfield closed after WW2

Orange

Gliding Sites

Brown

Airfield closed prior to WW2

Mauve

Private Strips

Black

Airfield details incomplete
Category
Airfield locations range from being very accurate to uncertain (especially for pre WW2 sites). I have used four categories as follows:


Category A

Exact. Airfield Lat/Long shows either the centre of the airfield or the mid point of the longest runway.

Category B

Accurate. Airfield location is known but not to Cat A standard.
Accuracy is approximately +/- 1nm.

Category C

Not accurate. Airfield location only known to about +/- 5nm..

Category X

No details are known to locate the airfield.
---
Airfield Designators
All airfields have been given a specific identity code. If an airfield has a current ICAO code I have used this.
All other airfields (active or disused) have been assigned a code using a group that will avoid confusion with the official ICAO system. For these I have adopted a four letter alphanumeric code using the format Xnxx.
The first digit is X as this is not used as a first digit by ICAO.
The second digit of the code is a number which broadly indicates the location of the airfield. Numbers 1 to 5 are allocated to airfields in England by Latitude (51N to 55N), 6 is used for Scotland, 7 for Wales and 8 for Ireland. X9 codes are used primarily for private strips. X0 codes are slightly different, these being used for airfields that existed prior to WW2 only.
The last two digits are alphabetical with most showing two letters from the airfield name.
Examples of these codes are X4YR for York Rufforth (a disused WW2 airfield) and X0LH for the WW1 aerodrome at Larkhill.
---
Location
Latitude and Longitude are now given to WGS84 grid and not OSGB36. These positions will be accurate on aeronautical charts and in programs like Google Earth and Memory Map. If plotted on current OS maps which still use OSGB36 expect an offset of approximately 300m for most of the UK.
---
Remarks
The remarks column provides further details on each airfield as supplied by many contributors to the pages. My sincere thanks to everyone who has taken the time and effort to pass on this valuable data..
For anyone interested in serious airfield research - especially in relation to manufacturing sites - I can heartily recommend the 5 volume work written by Ron Smith entitled British Built Aircraft. This title is a misnomer in that it does not convey the wealth of additional material concerning company and airfield histories. The final volume of this excellent series has recently been published.
Email to

---
Copyright
Material on this website, including text and images, is protected by copyright. It may not be copied, reproduced, republished, downloaded, posted, broadcast or transmitted in any way except for your own personal, non-commercial use. Prior written consent of the copyright holder must be obtained for any other use of material. Copyright in all materials and/or works comprising or contained within this website remains with Citizens Advice and other copyright owner(s) as specified. No part of this site may be distributed or copied for any commercial purpose.
---
The data displayed is for historical purposes only and is not to be used for actual flight planning or aircraft operations.
---

Last Update: 01 Mar 2022