The Definitive Guide to the Kinetic SBS Virtual Radar

This tutorial has been written to give SBS1/1e/1er and SBS3 users a better understanding of their systems and to tune the software to suit their needs. It describes additional programs that enhance the use of the system as well as a detailed look at the BaseStation software.
BaseStation is highly adaptable but it can take some time to understand fully - I hope this tutorial goes some way to making that process easier.
The content of this tutorial evolved over time in response to many questions posted on the Kinetic SBS-1 Forum. If further topics arise on the forum that merit discussion they will be added to these pages.
Link: Kinetic SBS Forum
---
Articles and Tutorials - Download PDF
---

Expanding your Horizons
After initial installation of your SBS unit and BaseStation software your display will probably look similar to the screenshot below. This example shows a 50nm radius centred on Gatwick with the south coast just visible at the bottom of the screen and Heathrow and London City towards the top.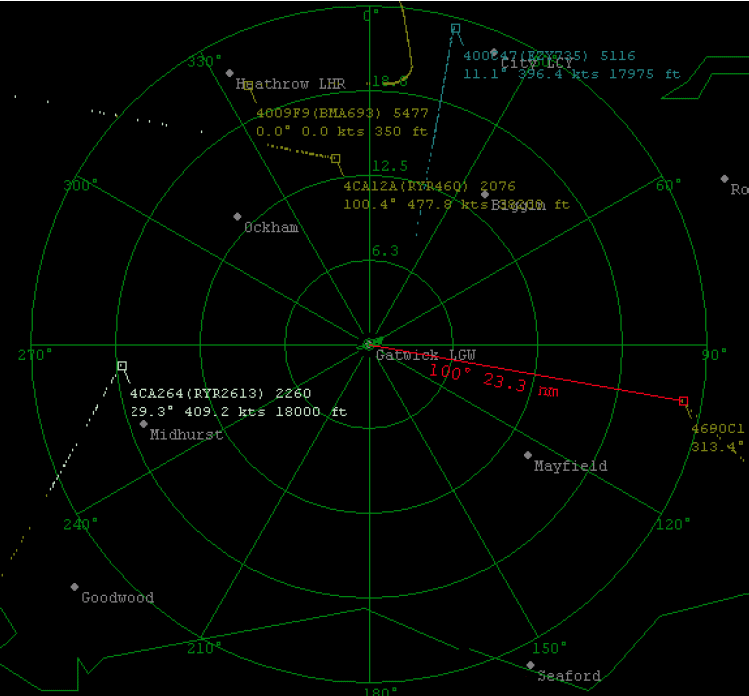 Below you will see exactly the same viewpoint - but a significantly different picture. Both the screen presentation and the aircraft data have been enhanced - navaids, airports and intersections are shown together with controlled airspace, runway centrelines, a more detailed coastline and even military and danger areas.
The aircraft data tag is also much improved. This now shows registration and aircraft type - and is more neatly presented.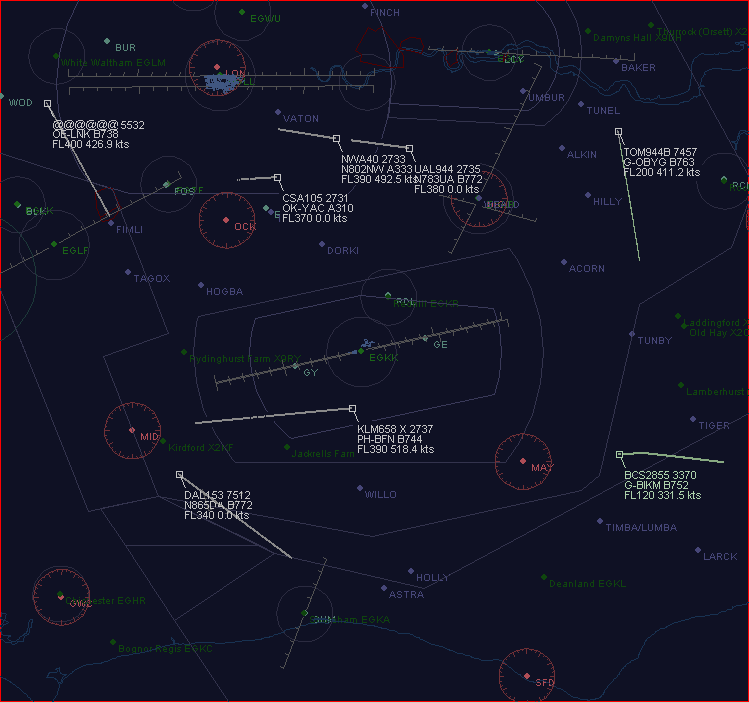 So how was the display above created?
Here I'll show you how to achieve a customised display to the level of detail above. Part of the process is through adjusting the values and settings within the BaseStation software itself and part is through installing additional software and data that has been created by some very talented SBS users.
Important
The tutorial assumes that you have read the BaseStation manual and that you understand and know your way around the menu system. For some add-on software you must also have basic knowledge of moving and copying files with Windows Explorer and opening and editing INI files in Notepad. If your experience level is not up to this standard then do not install software without help.
---
Improving your SBS
The tutorial has grown in size since first written so I have now split it into separate sections. These are:
Aircraft Data

Tutorial 2 - Aircraft Data and Data Management

This section describes how your SBS works and how data is processed. It also explains the use of additional programs to import aircraft information into your SBS database.

BaseStation Display

Tutorial 3.1 - BaseStation software
Tutorial 3.2 - Outline and Waypoint formats
Tutorial 3.3 - Configuration tweaks
Tutorial 3.4 - Debug and Reporter


This is a major section in four parts.

3.1 takes a detailed look at the default BaseStation software and explains the Settings Menu options in detail.

3.2 explains Waypoint and Outline file format.

3.3 is for advanced users and explains how further tweaks can be made through editing the configuration files.

3.4 looks at the Debug tool and BaseStation Reporter.

Using the SBS

Article 4.1 - Aerials and Signal Reception
Article 4.2 - Socket Data
Article 4.3 - Aircraft List explained
Article 4.4 - Avoiding Screen Clutter
Article 4.5 - SBS1 v SBS1e Polar Plots
Article 4.6 - SBS Firmware and Basestation upgrades
Article 4.7 - Aircraft Position Errors

This section provides a series of articles on actual SBS operation. It covers topics like aerials and signal reception, socket data, upgrading BaseStation and polar plots.