Multiplayer flying in FS is extremely popular and is constantly evolving in more sophisticated directions. At a basic level you can open up a multiplayer link directly with a friend or two for a personal get together. At an advanced level you can join a service like VATSIM and fly with hundreds of other pilots in a simulated ATC environment.

Basic MP flights in FS
At basic level all you need to fly online with other pilots is FS itself. One pilot elects to host an MP session and notifies his IP Address (and suggested airfield location) to other pilots. If you enter this IP Address in your FS MP setup screen and press Search FS should locate the session and allow you to join. Such sessions are usually set up between friends or an MP email group but there are one or two web sites that are springing up so it is worth checking.
It can be difficult finding on line sessions but one UK site I recommend visiting is Rory Gillies web site at http://www.shetland.flyer.co.uk/ where he runs a multiplayer server continuously.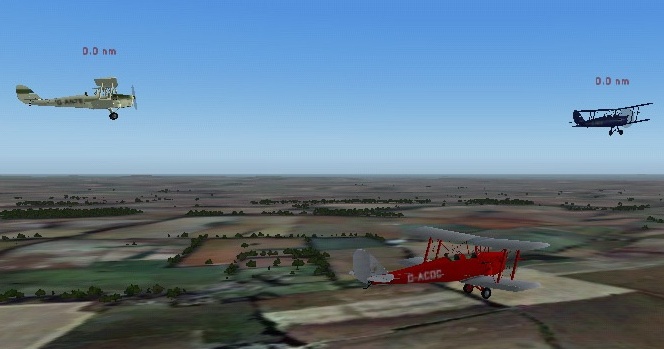 Communication in MP is awkward as the default method is via a text input box. This is slow and can be frustrating when you are busy with flying the aircraft. Many MP session organisers now use alternative voice programs such as Roger Wilco or Teamspeak allowing pilots to speak to each other.
All you need for voice communication is a decent sound card and a headset with a boom microphone - you can get very good quality headsets these days at quite low prices. I use a Sony DR220 and it is excellent for both FS and listening to DVD's.. For those of you who have not used a voice program before I think you will be surprised at the quality of sound. Roger Wilco isn't just for FS either - you could have a long conversation with your friends around the world, all for free.
MP Flights with on-line ATC Services
Although basic MP flying can be great fun it's limitations rapidly become apparent. Once you go into MP mode in FS it automatically stops the FS AI aircraft and ATC - leaving you with quiet and empty skies except for your friends online at the time. MP is also limited in the number of pilots that can join in a session (it can get a bit strained once you have 6 or more pilots online) - this is due to the way FS sends its data to everyone connected to the session. MP is also a "pilot only" setup so random flights are the usual scenario with fly-ins organised by more ambitious groups - but there is no supporting ATC.
FS users are nothing but adventurous and so several organisations have started developing MP to work with fully integrated ATC services. You start up MP as above but then you link with an online ATC server which connects you to all other users on this system - both pilots and controllers. You will see many other aircraft in the skies, all being flown by other pilots who have connected to the servers, and you now have the ability to talk to people manning ATC positions. The latter are not running FS but use a separate program which provides a radar screen showing all the aircraft connected to the server. Here is a screen shot showing several aircraft on a radar screen: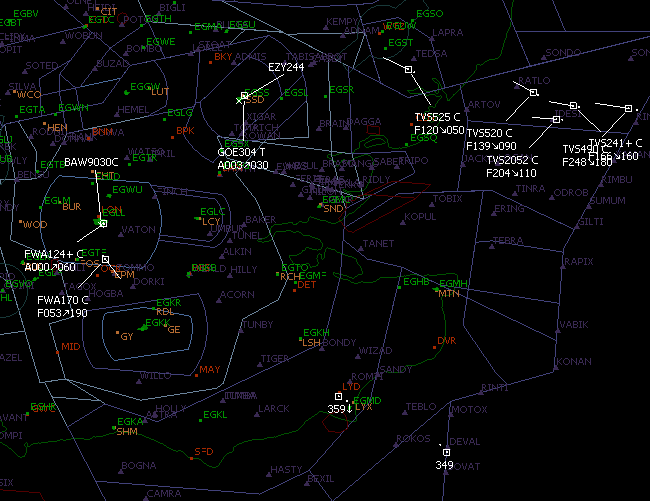 To take part in an ATC system requires installing their server software. Most ATC systems started off using the well known Squawkbox 2 pilot module to connect to their servers (dedicated servers also mean a big increase in pilots able to use the system) but this is gradually being replaced by better software - SB2 can be a pain to set up for FS2002/4.
The two most well known ATC providers are IVAO and VATSIM and they both use their own proprietary software. It is therefore worth checking each of these organisations to see which one best suits your needs. All are very good.
---
Before pilots start flying with VATSIM or IVAO they will need to know a little bit more about ATC and how it works. Both organisations cover this in good detail but the following pages give a brief idea about what to expect:
A look at the basics of ATC. Now you are flying in a controlled environment this is the time to learn some of the basic ATC procedures that will be useful for MP flights.
If you think you know how to fly your FS aircraft then the real time environment of online ATC can cruelly show up your weak areas.

This article describes the workload of a real airline flight from Ronaldsway to Heathrow and highlights why real pilots are more prepared for the unexpected. Inset comments are included to help FS pilots in procedures they have not come across before.

Flight Sim versus Reality
In this tutorial I'll describe how to plan a perfect flight in the UK - and why doing this can still leave you unprepared for what may happen.

This article is based on a real flight from Ronaldsway to Biggin Hill in a Cessna CJ1 Citation.

Further articles are available on my

Tutorials

page.