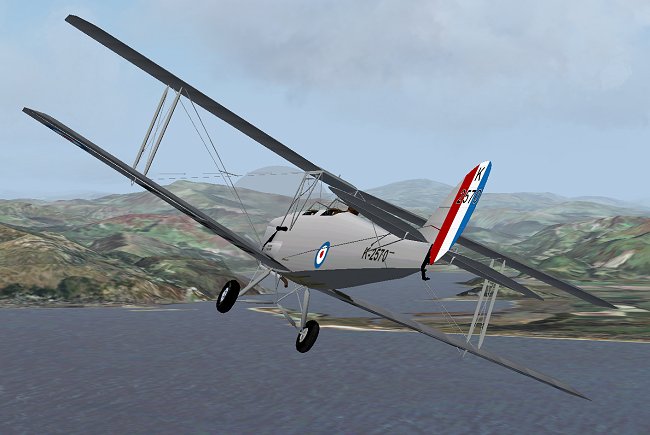 The Tiger Moth Collection is my tribute to this wonderful aircraft. I had the great fortune to fly one of these aircraft for several years and like so many other pilots I fell in love with it right away. It is an easy aircraft to fly - but it is difficult to fly well as it all too readily reveals your imperfections.
The Tiger Moth Collection includes:
Ten landplane variants - five in RAF colours (1929 to 1956) and five civil aircraft. See Screenshots
For FS2002 only - A floatplane variant. Water rudder and cables are animated via the rudder pedals.
For FS2004 and FSX - Realistic 2D panel with XML gauges plus a full VC.
For FS2004 and FSX - Revised bitmap layout for easier user repaints.
---
FS2002 Version
The original version of the Tiger Moth Collection for FS2002 can be found at AVSIM and Flightsim.com. This model had over 8500 downloads.
FS2004 Version
The release of FS2004 saw a few changes in dynamics which caused problems with the original FS2002 Tiger Moth. The aircraft would still fly in FS2004 but trim and handling were no longer correct. On the plus side an advantage of FS2004 is that flight instruments are XML coded and it became possible to make a complete panel from scratch.
In converting the aircraft to FS2004 I have addressed both issues. The flight dynamics problems are cured and I have now rebuilt the aircraft panel with a full set of XML gauges.

FSX Version
For FSX the most substantial change is the reworking of the textures to DXT5 standard. New FSX sections have been added to the aircraft.cfg file and thumbnails for each aircraft will appear in the FSX Aircraft Menu.

---
Tiger Moth Panel Development
Original FS2002 Panel
The original FS2002 Tiger Moth panel (shown below) had no customised gauges - it used gauges already available in FS2002. Only the Turn and Slip Indicator and the Oil Pressure gauges were accurate representations of the real aircraft gauges.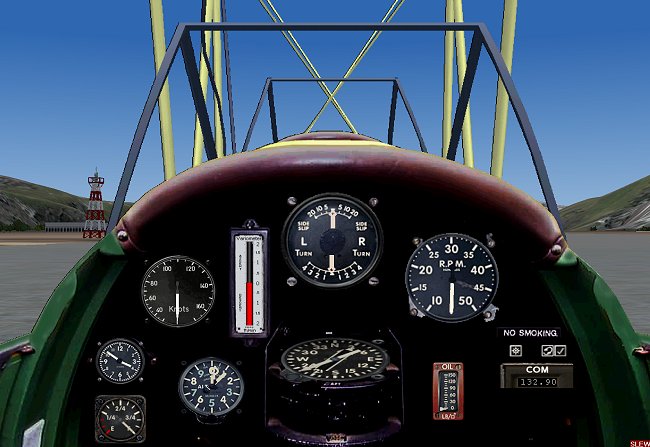 FS2004/FSX Panel with photo realistic gauges.
With the move to XML coded gauges in FS2004 it was finally possible to make my own. The operating code was easy enough and for the gauge faces I have used photographs of original instruments. Real world Tiger Moths sport a wide variety of cockpit instrumentation so I have made some gauges dual featured to provide alternative dials.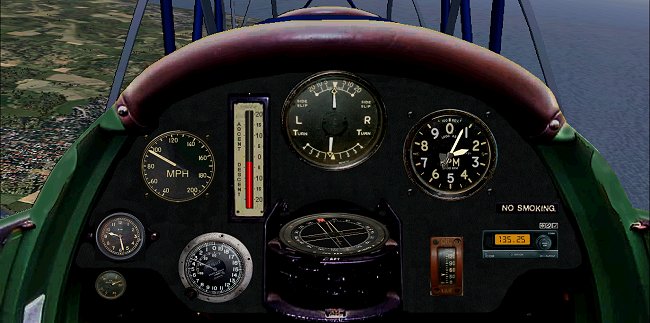 Clicking on ASI, Tachometer and Altimeter will change each dial to alternative displays shown below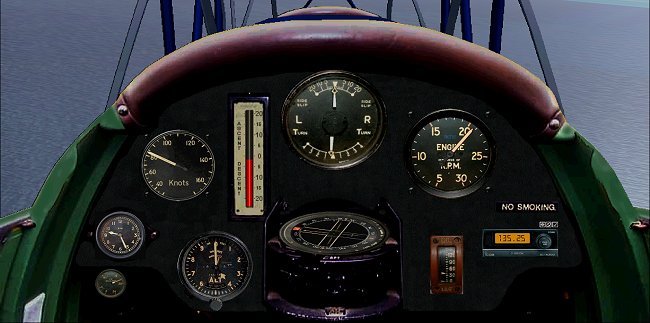 ---
Downloads
Note: The zips below do not include the Floatplane version because of flight dynamics issues. If solved I will release this variant as a separate download.
FS2004

If you have imported my FS2002 Tiger Moth into FS2004 I would strongly urge that you delete it from your system before installing the FS2004 set. FS doesn't like duplicate aircraft with identical titles in your aircraft folders.
Should you have additional repaints in your FS2002 collection remember to copy the texture folders into the new DH82A folder structure and copy the relevant aircraft.cfg [fltsim] sections over to the new aircraft.cfg file.

Download

Revisions

Tweaks and changes
See my Notes page
FSX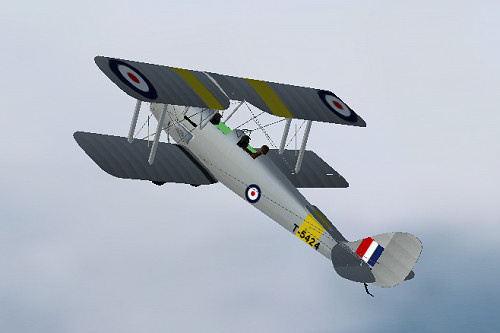 The new FSX version has no major redesign changes. A small alteration was made to the flight model and this version employs the new DXT5 bitmaps required in FSX.
Download

DH82A_Tiger_Moth_FSX.ZIP (11Mb)

Revisions

Updated 28th Oct 2006


A new aircraft.cfg file now adds CameraDefinition settings to the original file plus a few minor edits.

My sincere thanks to Paul at ODG Scenery for sending me the camera data.

| | |
| --- | --- |
| | Screenshots for the default aircraft collection |
| | Notes for repainting the aircraft - plus some nice submissions from users. |