Before describing how to upgrade from one version to another it is worth understanding how the different databases worked.

How the databases work
Spider 1 to Spider 5 (up to 1.1.0.64)
As each Mode S code is picked up by SBS a data file is created for it and stored in the UserData folder as an XML file. Users start with zero data but as the unit picks up more and more aircraft the number of XML files will grow. The XML files contain only the data being sent by the aircraft - usually the Mode S code and (if transmitted) the callsign - but these can be added to through direct editing or using a third party editor like SBS Populate/ActiveDisplay..

After a few months of use most users will probably have several thousand XML files on their systems, one for each aircraft detected. Whilst this was a usable system the major problem with these versions of BaseStation was the limited access to the database records.
Spider 5 (1.1.0.64) required a firmware upgrade (3.0.1).

Snoopy VDB Database Beta (Ver 1.1.1.64)
The need to store data in a proper database saw the release of Snoopy. The major changes with this release were the replacement of individual XML files with an integrated Vista database (nothing to do with Microsoft's Vista OS). It also saw the release of BaseStation Reporter used for viewing and editing database records
The Vista versions were short lived because of inherent problems with the VDB database. As these could not be overcome it became necessary to switch to an SQL database system.

Snoopy 1 to Snoopy 5 (1.1.1.110 to 1.1.1.125)
The Snoopy software was a major upgrade in that it provided many improvements in the screen display but the real change was in the database system. The XML files were replaced by a proper SQL database (the BaseStation.SQB file) which provides far greater flexibility and editing capabilities.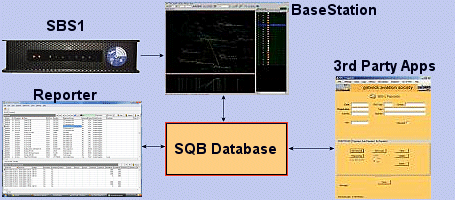 The aircraft records in Reporter can be edited with the new data being written directly to the SQL database. Third party applications can also read and write information to the SQL database - an example being the lookup facility in SBSPopulate/ActiveDisplay from GAS.


Snoopy 6 to Snoopy 7 (1.1.1.128 to 1.1.1.130)
These Snoopy variants included additional functionality of the BaseStation software. The structure of the basestation.sqb file was altered slightly with the addition of new database fields for the display of aircraft logos.
Version 1.2.1.141 onwards
Subsequent variants retain the SQB structure released in 1.1.1.130.
---
Upgrade for users with Spider 1 to Spider 4 (up to version 1.1.0.61)
Kinetic have written a very good installation program that should automatically upgrade your existing Spider software. Before you start it is worth reading through the next few lines so you understand what will happen during the conversion. Read through the whole section before attempting the upgrade.
1. You should open the existing Spider BaseStation (or look in the BaseStation.ini file) and write down your Home Location Latitude and Longitude values. These will otherwise be lost during the conversion as Snoopy has a new Location Manager for this data.
2. It is recommended that you make a complete backup of your UserData folder. The XML aircraft records are contained in your UserData folder and, for long term users, it is likely that these may run into tens of thousands. These are vital and it would be extremely common sense to make a backup of the UserData folder as insurance in case problems arise during conversion.
3. The actual installation should be trouble free. You should install the upgrade into the same folder as your existing Spider software - your existing files will be replaced with the new software versions and a few new files will be added.
Snoopy doesn't use XML files. All the aircraft data in Snoopy is contained in the Basestation.sqb file - which will be empty when you first install the upgrade. Your data is converted the first time you run the new BaseStation software. It works like this:
1. When BaseStation starts it will look in your UserData folder for any existing XML files.
2. Each XML file will be converted and added to the basestation.sqb file.
3. As each XML file is converted it will be renamed e.g. 4001A5.XML will become 4001A5.XM~
Two problems may arise here. First is that if you have a large number of XML files they may not all be processed in one pass. You may have to close BaseStation and restart it to continue the conversion process. The second problem is that the import process will stop if it hits a bad XML file.
For the first problem it might be sensible to copy out all your XML files to a spare folder and only leave about 1500 records in the UserData folder. Run BaseStation and if it accepts all the files close it down again and copy back another 1500 files. Keep doing this until all your records are copied over.
If your import hits a bad file and stops the only solution is to delete that bad XML file and restart BaseStation.
Tidying up
1. Once you are sure all your XML files have been imported into the new software you should check your UserData folder. This should now only contain four files:
basestation.css
basestation.xsl
temp1.xml
temp2.xml (these temp files will only be present if you have opened the Aircraft Details box in the new BaseStation).
If you have any files ending in XM~ then these can all be deleted as they have been successfully copied into the new database.
2. If any XML files remain apart from temp1 and temp2 these have not been converted but should do so next time you start the BaseStation. If you still find XML files in the folder after several sessions they may be bad files which cannot be converted. They can be kept or deleted as you wish - they will not be used by the new software.
3. When you delete the XM~ files do not clear out the whole UserData folder by mistake - the above four files must be left in place.


---
Upgrading for users with Spider 5 (1.1.0.64) using the Vista database
This is a trickier procedure but not impossible. Some users may still have this Vista version on their system and if so the following procedure MUST be followed.
1. Check that you are running Reporter version 1.1.1.77
2. Use Reporter to export all your data to CSV. Check this file in Notepad to ensure all you data is there.
3. If you have tweaked Snoopy in any way you should backup the tweaked files. These may include the Countries.dat file, country flag bitmaps, outline/waypoint files and the basestation.XSL file.
4. Install the new software.
5. Get a copy of SBS Populate/ActiveDisplay. This can be used to import the CSV data back into your new Snoopy SQB file.
---
Upgrade for users with any Snoopy version (1.1.1.110 or later)
This is fairly straightforward and just the usual precautionary steps should be taken.
1. Make a backup of your basestation.sqb file.
2. If you have tweaked Snoopy in any way you should backup the tweaked files. These may include the Countries.dat file, country flag bitmaps, outline/waypoint files and the basestation.XSL file.
3. Install the new software.
4. When you restart BaseStation check to see if the column for the Operator Logos is showing. If not then close BaseStation, delete your BaseStation.ini and restart.