Civil Airfield Plans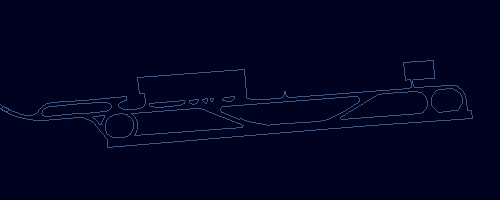 These outlines are high resolution but show paved detail only. They display runway, taxiway and apron edges but not runway/taxiway/apron markings, airfield buildings or structures as these can frequently change.
Note: An alternative set of extremely high detail airfield files are available on the SBS-Resources CD or from the Kinetic Downloads page.
The airfield plans cover the following 142 UK and 13 Irish airfields:
Aberdeen, Andreas, Andrewsfield, Barra, Barrow, Barton, Beccles, Belfast Aldergrove, Belfast City, Bembridge, Benbecula, Beverley, Biggin Hill, Birmingham, Blackbushe, Blackpool, Bodmin, Bourn, Bournemouth, Bristol, Caernarfon, Cambridge, Campbeltown, Cardiff, Carlisle, Chalgrove, Chichester, Clacton, Coll, Compton Abbas, Coventry, Cranfield, Cumbernauld, Damyn's Hall, Denham, Derby, Doncaster Robin Hood, Dundee, Dunkeswell, Durham Tees, Duxford, Eaglescott, Earl's Colne, Eday, Edinburgh, Elstree, Enniskillen, Exeter, Fairoaks, Farnborough, Fenland, Fife, Filton, Full Sutton, Glasgow, Gloucester, Guernsey, Haverford, Hawarden, Hucknall, Humberside, Inverness, Islay, Isle of Man, Jersey, Jurby, Kemble, Kirkwall, Land's End, Langford Lodge, Lashenden, Leeds, Leicester, Lerwick, Liverpool, London City, London Heathrow, London Gatwick, London Stansted, London Luton, Londonderry, Lydd, Manchester, Manchester Woodford, Manston, Netherthorpe, Newcastle, Newquay, Newtownards, Northampton, Norwich, Nottingham East Midlands, Nottingham Tollerton, Oban,Old Buckenham, Old Sarum, Old Warden, Oxford, Panshangar, Papa Westray, Pembrey, Perranporth, Perth, Peterborough Conington, Peterborough Sibson, Plymouth, Prestwick, Redhill, Retford, Rochester, Sanday, Sandown, Sandtoft, Scatsta, Scilly Isles, Seething, Sherburn, Shobdon, Shoreham, Sleap, Southampton, Southend, Stapleford, Stornoway, Stronsay, Sumburgh, Swansea, Tatenhill, Thruxton, Truro, Turweston, Warton, Wellesbourne, Welshpool, West Wales, Westray, White Waltham, Wick, Wickenby, Wolverhampton, Wycombe, Yeovil.
Baldonnel, Cork, Dublin, Galway, Inisheer, Inishmann, Inishmore, Inveran, Ireland West, Kerry, Shannon, Sligo, Waterford.
Author: Bones
Latest update - 7 Apr 2011 (adds airfields at Coll, Cumbernauld, Eday, Enniskillen, Fife, Guernsey and Islay.)

DOWNLOAD - UK Airfields.zip
DOWNLOAD - EI Airfields.zip